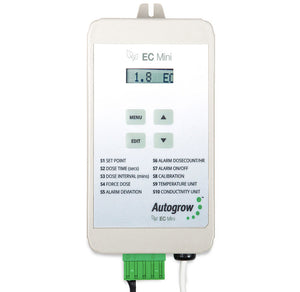 The EC Mini Kit is the latest EC controller in family of monitors and dosers that have been proven over many years for quality dose control.
This latest monitor/controller has built upon a pedigree of simplicity and innovative features. The EC Mini may be used as a mains powered monitor or, by adding two solenoid valves or pumps, it becomes a fully functional dosing system, managing fluctuations in your EC. EC fluctuations in your reservoir are not only time consuming to correct but can have negative effects on your crop performance.
This simple EC Mini will monitor your EC levels and add EC adjuster to maintain your desired set-points. Adding peristaltic pumps will allow you to keep your EC adjuster in larger containers on the floor, avoiding issues associated with gravity-fed valves.
LEAK ALARMS

Checking dose count is useful if a leak should develop or the pump fail and should prevent continuous dosing alarms. The alarms can be enabled to operate on the controller when the EC or DC/h deviates outside the user set-point.
AFFORDABILITY

The EC Mini is affordable enough to be used as a mains powered monitor, continuously displaying the measured electrical conductivity. By adding solenoid valves or dosing pumps it becomes a low cost dosing system.

TECH SPECS

Reading can be changed to EC or CF 

Timed dosing for easy set-up 

Range from 0 to 9.9mS (0 to 99CF) 

Resolution 0.01mS/cm (0.1CF) 

Two year warranty

Graphite electrodes for minimal contamination 

Easy to recalibrate by using 27.64CF standard solution 

Displays dose count 

If dose count per hour exceeds user limit, alarm sounds and dosing stop 

Built-in alarm (can be turned off)